Joffin's has provided dance floors, stages, catwalks and podiums to some of the most exclusive parties, fashion shows, events and conferences throughout the UK for over 15 years. Our stages and dance floors are kept in an immaculate condition and are polished at every event to maintain our high standards.
We have a wide range of products and services in stock and our designers are also delighted to create custom installations – staging and flooring of any size, shape and colour. We can even create rotating or lifting stages for that extra special impact.
Star Cloth Effect (Led) White or Black or Black & White Dance Floor
This is very simply the most stunning dance floor available. The Pure White or black L.E.D or black and white dance floor with 4 controllable channels creates an absolutely incredible centrepiece for your event. The LED Dance floor panels are controlled which is supplied with every floor.

Illuminated Dance Floor (LED)
The ultimate themed dance floor…LED controlled dance floors create the ultimate impact. Each panel is fully controllable enabling us to create any pattern and colour. The overall effect is spectacular and fantastic for themed nights. The dance floors are raised 8 inches and come in 1m panel sections.

Video LED Dance Floor
We are one of the few companies in the UK to now stock VIDEO LED dance floor – unlike conventional LED floors that simply flash in sequence, this modular floor system can display a stream of stunning moving images, animations and live, or recorded video footage. The system can be arranged in a variety of sizes and shapes and can display logos and text, making it ideal for both private and corporate events.
Imagine walking on a low definition TV screen and you get some idea of what this product can deliver. The Video Floor System slots neatly into their extensive portfolio of event equipment and is equally effective as a funky dance floor, stunning catwalk or as a way of underlining a theme or promoting a message.

Interactive Dance Floor (4m x 4m)
We are very proud to offer this very unique guest interactive LED dance floor. Whether you are organising an awards dinner, movie premiere, product launch, wedding, birthday party or are looking for that WOW factor at your event, this is a must have for every event planner. The LED pressure sensing display and effects platform can even integrate with your existing lighting and sound system.
The floor comprises of adaptive, interactive and highly programmable tiles that can be assembled together to form any size or shape floor. This enables you to transform static décor into a stimulating environment that responds to movements wherever people happen to be moving. This floor is guaranteed to amaze your guests the second they step onto it.

Black & White Dance Floor
Black and white dance floors add an unparalleled touch of class to any event. The high gloss finish reflects light beautifully creating a stunning impact. Our black and white floors come complete with non slip aluminium edging.

Mirror Dance Floor – any size or shape (up to 6m x 6m)
These magical and elegant mirror dance floors are bespoke made for every event and sure to get your guests talking. Add to this unique product our circular mirror bars and mirror furniture and your whole venue doubles in size.
The flooring is available in either silver or gold mirror effect and can be made in to any shape and size to suit your requirements. This dance floor is 100% safe and is replaced after each hire.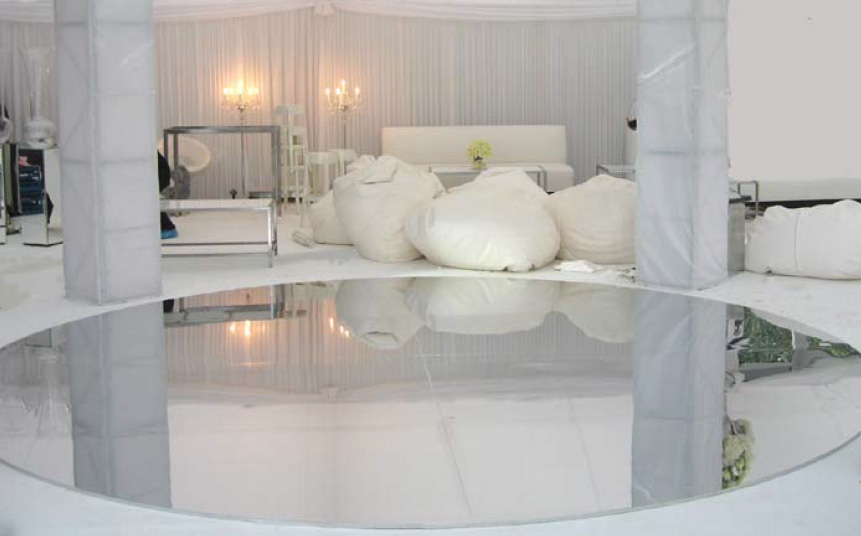 Dance Floor Sizes
There is a simple equation which enables you to calculate exact dance floor size requirement:
This is not an exact science and if in doubt take the smaller option, as if there is not enough space guests will dance around the edges as well! In normal circumstances, floors can be either square or rectangular.
Divide the number of guests by 4 and that will give you the approx. number of 3ft x 3ft (approx. 1 metre square) sections you will need.
So for 50 guests you would require 12.5 sections (rounded down to 12)  – which will be 3 x 4 sections or approx. 9ft x 12ft or 3m x 4m.
| # of guests | # of sections | Size (in metres) | Size (in feet) |
| --- | --- | --- | --- |
| 75 guests | 18.75 sections (~ 16) | 4m x 4m | 12ft x 12ft |
| 100 guests | 25 sections | 5m x 5m | 15ft x 15ft |
| 150 guests | 37.5 sections (~ 36) | 6m x 6m | 18ft x 18ft |
| 200 guests | 50 sections (~ 49) | 7m x 7m | 21ft x 21ft |
| 250 guests | 62.5 sections (~ 64) | 8m x 8m | 24ft x 24ft |
| 300 guests | 75 sections (~72) | 9m x 8m | 27ft x 24ft |