For more information on a particular service or package, visit the pages below:
Lighting is all too often overlooked at events. Simple yet effective lighting is often the most cost efficient way to create a very strong impact, transforming the venue to ensure a lasting impression. From simple security lights to the most incredible stage and venue lighting, there is no limit to the imagination of our designers and engineers. Use of stunning moving lighting, custom gobos, table pinspots, uplighters, silk flames, lasers and outdoor coloured flood lighting allows us to create the perfect atmosphere for any event.
Imagine powerful search lighting as guests arrive, with a stunning room wash during drinks reception – gently changing colour between each course. If you are having dancing at your event we can create incredible dancefloor lighting that will ensure a night to remember.
For most events we study your venue and provide a bespoke proposal to meet your requirements and budget. However, we have produced some very useful Lighting Packages which offer comprehensive options for events of various scales. We would be delighted to discuss your lighting requirements with you.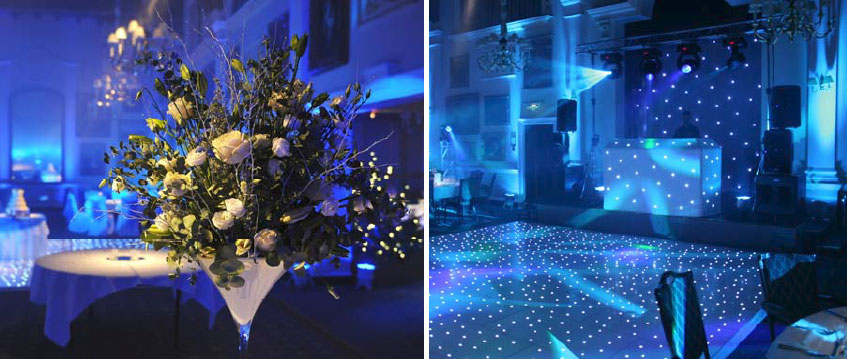 LED Uplighters
LED uplighters are singularly our most popular lighting units and are very effective for enhancing room features, walls and props. LED uplighters use very little power, emit no heat and enable us to select from a comprehensive range of vibrant colours. These smart units are positioned around the perimeter of your function area.
We carry one of the largest stocks of LED uplighters in the UK. Our units are an immaculate white finish and are possibly the smartest on the circuit.
We offer two uplighter 'packages' – a budget package where uplighters are fixed in a colour throughout your event and can be individually switched to colour scroll during your dancing, or our full DMX package where uplighters are linked and controlled from a lighting desk enabling any-colour room washes and smooth fades.
Intelligent Moving Heads on Twisted Metal Plinths
Intelligent moving head lights provide one of the most impressive and flexible lighting formats. Positioned around the perimeter of your venue and programmed onsite to optimize impact, they enable a vast array of effects.
Imagine a stunning ultraviolet or vivid pink room wash with gentle lighting movement across the ceiling, or the power of bright search lights scanning your room as guests are called into dinner.
"Thank you so much for all your help as well as for playing fabulous music all night. Everyone had the most fantastic time and you were everything you said you would be... and more. We would definitely use you again and will recommend you to all our friends."
- PG
Source 4 Profiles with Break-up Gobos, Dimmers and Control
Profile Lights create an extremely powerful single colour patterned wash of tables. We can utilise a number of different gobos to create very different impacts.
As they are raised very high on chrome stands, profiles enable us to enhance table displays and work very well with the uplighters above. All profiles are controlled on dimmers to enable us to create more a more intimate wash later in the evening.
LED Chroma Bars
1m long LED bars provide the ultimate in powerful any-colour room wash. Despite using very little power and emitting no heat, LED bars create an extremely high impact and can be used to blend, fade and sequence through any possible colour.
We generally provide smooth colour changes between each course and high impact sequenced programmes for dancing.